Tsubasa Kazanari
Comments

0
125pages on
this wiki
Tsubasa Kazanari
風鳴 翼 Kazanari Tsubasa
Character Information
Race
Human
Age
17
Gender
Female
Eye Color
Dark Blue
Hair Color
Blue
Height
166 cm
Relatives
Genjūrō Kazanari (uncle)
First Appearance
Episode 1 (Anime)

Chapter 1 (Manga)

The Relic(s)
Ame no Habakiri
Theme Color
Blue
Status
Alive
Japanese Voice Actor
Mizuki Nana
Tsubasa Kazanari
(

風鳴 翼

Kazanari Tsubasa

?

)
is a girl who has the power to use
Symphogear
armor, which uses music to fight off against aliens known as
Noise
.
Etymology
Edit
Kazanari (風鳴, Kazanari?) - Means "Crying Wind".
Tsubasa (翼, Tsubasa?) - Means "Wing".
Appearance
Edit
Tsubasa is a tall girl with blue hair and dark blue eyes. She has a side pony-tail on the left side of her head that is longer than the rest of her hair, which falls to just above her waist and cut straight.
Her Zwei Wing concert clothes consist of a high collared crop top with white shorts and a lowly belted pleated skirt cut diagonally from her left hip and a large light blue bow and left wing on her bustle. She also wears white and blue stocking up to her thigh, and light blue boots with the left one reaching to her knee and the right reaching to her ankle.
She is also seen wearing the Lydian Music Academy uniform.
Character Sheets
Edit
Personality
Edit
Tsubasa first appears as a pop star and student with a cold personality. However this is due to the fact that her previous partner, Kanade, lost her life two years prior to the series after a Noise attack on their concert. As before Tsubasa was a shy girl who was coming out of her shell with Kanade's help and shining personality. Tsubasa refuses to accept Hibiki as Kanade's replacement, and prefers to fight alone. Even more so since Hibiki's Gungnir has the same wavelength as Kanade's.
Tsubasa even refuses to sign an overseas singing contract, as she views herself as a weapon who only sings in the battlefield. However, during the time when she was hospitalized due to the life-threatening side-effects of singing her Zesshō, Tsubasa seemingly "converses" with Kanade. Afterwards, she starts opening up to Hibiki and everyone else, and is shown to have a more caring side and becomes more outgoing and protective of her teammates.
12 years prior to the beginning of the series (making her about 5 years old) Tsubasa first activated the Relic Ame no Habakiri, exposing Sakurai Ryōko to the Aufwachen Waveform emitted by the relic. This in turn woke the consciousness of Finé inside of Sakurai.
She was formally a part of a duo known as Zwei Wing, but her partner, Kanade, sacrificed herself fighting the Noise and she has since been fighting the Noise alone.
After the death of Kanade, Tsubasa became cold and aloof. She was very reluctant to work with Hibiki, refusing to accept her as Kanade's replacement. Her Symphogear is the First Relic - Ame no Habakiri and her Armed Gear is a long katana.
In Episode 10 of the second season, Yukine Chris, attacks Tsubasa Kazanari in an unexpected twist. Tsubasa received a small injury on her head which Aoi stated her to be lucky to have been able to dodge in time. Tsubasa however remembered that she could nit dodge from a close range atttack from Chris and became suspicious. After healing in episode 11, she fought against Chris and noticed the necklace on her neck. This was actually a bomb which Dr. Ver puts on Chris in order to ensure her loyalty towards him. Tsubasa then cuts the necklace and Chris returned back to the team.
Attacks and Abilities
Edit
Activation Song
Edit
Awake Dispenser of Fate Ame no Habakiri
Imyuteus Ame no Habakiri Tron
Abilities
Edit
Tsubasa is the owner of the First Relic, Ame no Habakiri. She has the ability to fight Noise with the use of the anti-Noise armour, the Symphogear, which clads her in battle. As an "Attuned" she can use the Power of Song (歌の力, Uta no Chikara?), to summon her Armed Gear to fight. Tsubasa's Armed gear is, while in its normal form a Katana; however it is shown that the form her Armed Geared may change depending on the attack used. Tsubasa's gear is also unique due to the fact that Ame no Habakiri is the only gear shown to have blades attached to her ankles.
Tsubasa, having trained since she was a child, is both agile and strong, with a wide array of sword techniques that emphasize rapid, flowing attacks. She is the longest active Symphogear user, making her the most experienced, as shown since her Relic has gone through the most development and change.
Wight Slayer - Tsubasa does a spinning handstand, unfolding the long blades on her ankles to cut through everything around her.
One Thousand Tears - Tsubasa conjures a large number of energy swords in the air which rain down on her enemy. It is useful for targeting large numbers of opponents or when Tsubasa is unable to move.
Blue/Azure Flash - Tsubasa transforms her sword into a much larger sword capable of delivering swings laced with blue lightning.

Destroyer Blue/Azure Flash - A variation of Blue/Azure Flash that Tsubasa used while in X-Drive.

Heaven's Wrath – Tsubasa conjures a sword comparable in size to a large truck, which can either be dropped on the enemy or thrusted down with assistance from a kick by Tsubasa. The sword is sufficiently large and thick that it can be used as a shield. By the time of Symphogear G Tsubasa is able to perform this attack many times in rapid succession.
Shadow Weaving - Tsubasa throws a dagger into her opponent's shadow, disabling their movement. This attack is actually a ninja technique learned from Ogawa Shinji, who can use it as well.
Soaring Phoenix - Wielding Ame no Habakiri as a pair of long-swords, Tsubasa projects a vast stream of flames from both blades as well as her feet, resulting in wings which allow her to fly. At the peak of the attack the flames turn from red to blue and engulf Tsubasa in the image of a phoenix which rams through the target.
Superb Song - Tsubasa's Superb Song is similar to Kanade's in that it acts as a simple wide-area destructive attack, but is much more focused in its area of effect. Because Tsubasa is well synchronized with her Symphogear, she does not risk death or destruction of her relic the way Kanade does, but use of the Superb Song will still leave her bedridden for quite some time.
Synchrogazer - This is a technique that was used by Tsubasa, Chris and Hibiki using the complete relic, Durandal. Most of the power in this attack was from Hibiki, but Tsubasa, Chris and Hibiki's friends helped keep Hibiki grounded to her real self and they contributed to the attack.
Disaster Blast - A combined attack used by Tsubasa and Hibiki. It was strong enough to injure Finé. [1]
Fiery Windblades - A more controlled variant of Soaring Phoenix. Wielding Ame no Habakiri as a pair of long-swords, Tsubasa joins the swords at the hilts and spins them rapidly, producing fire around the blades as part of a rushing attack.
Flash of the Rider's Blade - An attack that also utilizes her motorcycle, Tsubasa unfolds the blades on her ankles and attaches them to the front of the motorcycle creating a large piercing blade. This attack can also be used while Tsubasa has her armed gear in hand.
S2CA Tri Burst - An attack introduced in Symphogear G, serving as a combination attack between Hibiki, Chris, and Tsubasa. The energy from all three singing their Superb Song at once is channelled into Hibiki's right hand, with the harmony of the three songs cancelling their harmful backlash and resulting in a vast tornado of rainbow-hued light.
Early Silhouette - While not an attack per se, this is a skill unique to Tsubasa. Tsubasa can choose to voluntarily reduce her Symphogear's performance to an earlier stage, which weakens the Gear's performance but also greatly reduces the strain on it from effects like Anti-LiNKER that would lower Tsubasa's synchronization.
Unnamed S2CA Art - An augmented version of S2CA Tri Burst which uses Kirika, Shirabe and Maria as well as all 7 billion people on Earth, producing enough combined phonic gain to unlock the X-Drive of all six Symphogears, which together ram into the target as a bright lance of rainbow light.
Vitalization - A six-member combination attack accessible only in X-Drive, which forms a pair of large arms out of Gungnir and Airgetlam's armor components that deliver a combined punch fuelled by the energy of all six Symphogears.
Tsubasa is first seen in
Episode 1
two years ago hiding
behind the shadow of a large container as Kanade comes to speak to her. Tsubasa is displaying signs of nervousness and Kanade points it out causing her to blush and say that it was only natural. As she speaks Kanade flicks her on the forehead and comments about her seriousness. Genjuro approaches them soon after. Tsubasa continues to look very nervous as Kanade embraces her from behind. Kanade comforts her and the two stands up, taking each other's hand and get ready for their appearance on stage.
The concert starts and the two of them fly from the roof onto the stage waving to the audience. They begin to dance and perform Gyakkō no Furyūgeru. However as they prepare to continue on to their second song a large mass of Noise appears and begins attacking the audience. After Kanade activates her Symphogear and begins fighting Tsubasa does the same and joins her. As Kanade is singing her Zesshou Tsubasa yells at her to not sing the song. As Kanade finishes she runs to her side and hold her body as she dies and turns to dust.
Back to the present Tsubasa is next seen transforming from a helicopter and fighting a large horde of Noise in the night as the military could do nothing to damage them. Though given orders to back up the military she refuses and fights on her own. Since the concert two years before she has grown much in strength as her Symphogear has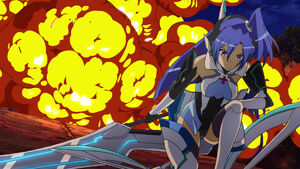 changed and she now fights much differently and more efficiently. The next day it is revealed that she now attends Lydian Music Academy as passes by Hibiki as she stands. Tsubasa quietly points to the rice stuck onto the side of Hibiki's mouth and continues to pass on by. Later that day she is next seen running into the Headquarters of the Mobile Disaster Response Crop as the Noise attacks. When the Aufwachen Waveform is identified she shows a very shocked expression.
In Episode 2 Tsubasa is seen riding a motorcycle through a crowd of Noise toward Hibiki and the little girl. She rides past them and jumps off the motorcycle allowing it to crash into a much larger Noise, singing her activation song she tells Hibiki to stand and watch or she'll die, and to protect the girl. She then transforms and goes to fight the Noise. As a larger one tries to attack Hibiki and the Noise with the use of her Heaven's Wrath she destroys it and protects the two.
After a battle, as Hibiki detransforms Tsubasa catches her as she is about to fall. Tsubasa later expresses confusion as Hibiki tells her it is the second time she has saved her. It is quite possible that Tsubasa does not remember seeing her at the concert two years ago. She then stands in Hibiki's way of leaving. As they board the elevator and the doors close Tsubasa hangs onto one the railings as they descend. She then tells Hibiki that smiles mean nothing where they're going, only to have an exasperated expression when Genjuro throws a party for Hibiki. As she watches she asks Shinji to do the honours as he undoes the cuffs. It is later seen that she might be doing an overseas debut as she has been approached by a major English label.
In a shower she remembers her fights with Kanade and her she told her there was nothing to be afraid of as long as they were together and she smiles happily. In the shower she expresses anger as the Gungnir suit is Kanade's. The next day she goes to get Hibiki as the Response Crops need her as a person of interest and handcuffs her again. As Hibiki asks for an explanation of her powers Tsubasa shows her Ame no Habakiri. Tsubasa responds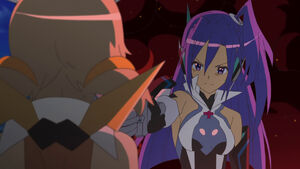 bitterly to the explanation of relics to Hibiki and causes a small silence. As the fragments in Hibiki's chest are revealed Tsubasa stumbles out of the room.
Hibiki then comes to her telling her that she'll fight too. The Noise alarm then goes off and they rush to see what has happened, she then leaves to go fight the Noise leaving Hibiki behind. Out on the streets the Noise have all fuses together to form a very large Noise, Tsubasa activates Ame no Habakiri and proceeds to fight the Noise as Hibiki jumps in. After the Noise is destroyed she raises her armed gear to Hibiki and tells her that they should fight.
Tsubasa attempts to fight Hibiki in
Episode 3
as she refuses to accept Hibiki as a partner and tells her that Hell will freeze over before she fights alongside her. She tells Hibiki to prepare her armed gear but Hibiki cannot as she does not know what it is. As she walks away she asks how Hibiki dares to take Kanade's place and attacks her. As she attacks, Genjuro comes in and matches her attack forcing her backwards. Genjuro walks up to her and asks if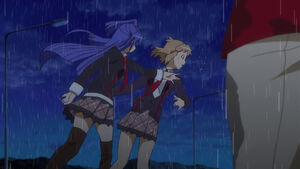 she is crying. She denies it as she does not shed tears. Genjuro helps her up as Hibiki says she'll try to replace Kanade, this angers her and she runs forward and slaps Hibiki, crying once more.
Tsubasa is then seen in a dojo of sorts meditating and thinking of Kanade's sacrifice. As Kanade lay dying she calls Tsubasa a little cry baby as she was crying for her. Tsubasa then expresses that she wanted to sing with Kanade forever. Back in the present Tsubasa picks up the sword in front of her and draws it, as she blames Kanade's death on the own weakness. At the meeting Tsubasa tells that Lydian has been the centre of all the outbreaks as they have all been very close to the school, which hides the relic Durandal. Afterwards they leave with Shinji as they have a meeting to attend concerning her album.
As they walk down the hall Shinji talks about her schedule and bring up the English record company, she tells him to refuse their offer as she only sings to fight. Shinji asks if she is angry and she denies it, as weapons have no emotions. She continues walking leaving him behind.
Later on as Hibiki fights the Noise she sees a shooting star, it turns out to be Tsubasa who destroys the last Noise. As Hibiki tries to speak with her Chris appears from the shadows clad in the Nehushtan Armor.
Episode 4 shows that Tsubasa was present when Kanade was first brought into the Mobile Disaster Response Crops 5 years ago. Tsubasa hides behind Genjuro as Kanade continued to struggle and yell. She watches the exchange between Genjuro and Kanade in surprise; she is also seen watching the experimentation on Kanade in order to make her compatible with Gungnir. Later on after they battle the Noise she helps Kanade to lift rubble off of some soldiers. Next she is seen training with Kanade.
Back in the present Tsubasa is about to face off with the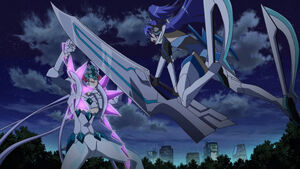 Nehushtan Armor but Hibiki stops her. Both she and Chris yell at her and she makes a comment at how well they get along. Tsubasa pushes Hibiki aside as Chris attacks them; she retaliates but is blocked by the chain on the Armor. As Tsubasa is sent flying back due to Chris' kick she wonders of the potential of an unbroken relic. As Chris summons the Noise Tsubasa attacks and tries to throw her off balance, however Chris is still much stronger and throws her back.
Tsubasa uses One Thousand Tears to break free of Chris' hold and the two continue to fight, destroying the surrounding area. As Chris summons the Noise Tsubasa successfully destroys them all and attacks Chris. As they fight Tsubasa throws knives that Chris blocks and tries to block Chris' attack and an explosion is causes where Tsubasa is once more thrown back. As she gets back up she raises her armed gear and sings her Zesshou.
As she reaches Chris is grabs onto her as she starts to bleed from her mouth and the song takes effect. The build-up of energy causes all of the Noise in the area to be destroyed and blows Hibiki away and she is freed from the Noise and throws Chris back and damages the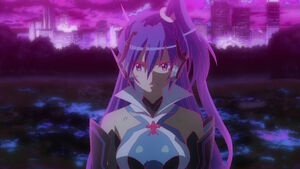 Nehushtan Armor. Afterwards she is left in the middle of a large crater, her symphogear heavily damaged and bleeding from her eyes and mouth. She begins to tell them that she failed to do what it takes to protect mankind. She then collapses as Genjuro runs to her.
Later she is seen in a hospital her eyes having been bandaged and hooked up to many machines. Shinji reveals that after Kanade's death Zwei Wing broke up and Tsubasa was left alone. She began to fight with fury and became a weapon. And thus she sang her Zesshou fully expecting to die. In her dream she is falling from the sky and sees Kanade's ghost, telling her that she can fly with only one wing Tsubasa reaches out to her and begins to drown.
Relationships
Edit
Genjūrō Kazanari - Although he is her uncle their relationship seems rather formal.
Kanade Amo - Tsubasa's previous singing partner and the other half of Zwei Wings. Tsubasa has shown a great deal of care for Kanade as she was the one to bring Tsubasa out of her shell when they were younger. Kanade's death devastated Tsubasa as afterwards she began viewing herself as a weapon and lost her love for singing as she now only sung for the battlefield. During her hospitalization and coma, Kanade's spirit came and spoke to Tsubasa resulting in her acceptance of Hibiki as a Symphogear user and acceptance of Kanade's sacrifice. Tsubasa continues to 'see' Kanade even after the events of Season one and Kanade becomes her guiding star.
Hibiki Tachibana - Originally Tsubasa was very cold to Hibiki refusing to see her as Kanade's replacement and treated her as such. Hibiki tried endlessly to befriend Tsubasa with no success until the latter is hospitalized which after she begins to open up and accept Hibiki. As of Season 2 Tsubasa is shown to have a great deal of care for Hibiki as she reverted back to her cold personality in order to keep Hibiki from fighting and allowing Gungnir to further fuse with her.
Insert Songs Featured in:
Edit
Before Kanade's death, Tsubasa's Armed Gear was black and blue, but after (back to present) her colour became white and blue.
Tsubasa was 15 two years ago which means she's now 17 and was 12 when she meet Kanade first time.
Tsubasa is the only character to have a song from the first season played again in the second season.

In addition, the coupling track of her second season character song single is a song from the first season.

Tsubasa's battle song genre is traditional Japanese music.
She is the only user who is able to use her season 1 armour in season 2.
Tsubasa is possibly the most sporty and durable user because she has trained since she was 5.
Tsubasa has the largest number of attacks (15), the second being Yukine Chris (14).

Also, she has the largest number of insert songs.

In episode 10, season 2 was showed that Tsubasa can control her Armed gear even though her hands are not free.
In episode 4, season 2 was showed that Tsubasa's sword is very strong. She can hurt another users armour, and to split it. In addition, the opponent's gear power decreases.
Tsubasa has the ability to materialize energy.
In Flight Feathers' lyrics "Tabidatsu TSUBASA no kaze wo Ah kanadete" Tsubasa uses her name and Kanade's name to show that the song is a bond between the two of them

The image of ZweiWing is that Kanade and Tsubasa both make up one wing of ZweiWing. Tsubasa is basically saying that she is moving on when she says "With this one wing on my back, and without crying, I swear to you.", because since Kanade died, there is only one wing left
I never shed tears. I am a fighter, a weapon myself. - Episode 3
References
Edit