Miku Kohinata
Comments

0
125pages on
this wiki
Miku Kohinata
小日向 未来 Kohinata Miku
Character Information
Race
Human
Age
15
Gender
Female
Eye Color
Aquamarine
Hair Color
Dark green
Height
157 cm
Relatives
Father and Aunt
First Appearance
Episode 1 (Anime)

Chapter 1 (Manga)

The Relic(s)
Shen Shou Jing
(Symphogear G episode 9 & 10)
Theme Color
Purple
Status
Alive
Japanese Voice Actor
Yuka Iguchi
Miku Kohinata
(

小日向 未来

Kohinata Miku

?

)
is
Hibiki
's best friend, who shares a dorm with her and is often concerned for her safety.
Etymology
Edit
Kohinata (小日向, Kohinata?) - means "A small place in the sun".
Miku (未来, Miku?) - can mean "Future".
Appearance
Edit
Miku has aquamarine eyes and short dirty green hair. She is most often seen wearing the Lydian Music Academy uniform with a light yellow ribbon tied to the back of her head.
Character Sheets
Edit
Personality
Edit
Miku is helpful and cheery, but constantly worries about Hibiki due to the danger she frequently finds herself in as a Symphogear user. She has a hidden deeply possessive streak towards Hibiki, which was exploited along with her desire for Hibiki not to fight anymore to transform Miku into a Symphogear user herself.
Two years ago Hibiki had called her at a Zwei Wing concert in which Miku couldn't attend. Two years later after a Noise attack, she figures out Hibiki's secret that she was a Symphogear user. This forced a break between them due to Miku believing that Hibiki couldn't trust her. However Miku eventually joins the 2nd Division Mobile Disaster Response Corps to help Hibiki and stay at her side.
During Symphogear G, Miku's role is largely the same as in the first season, but due to a series of coincidences she is rescued from certain death by Maria Cadenzavna Eve and brainwashed by Dr. Ver to become a Symphogear user, using a control implant to wield her as a puppet against Hibiki, Chris and Tsubasa as well as to open the seal on the Frontier. Hibiki recovered Miku after using the Shen Shou Jing's own light against itself to erase the relic and its control implant, and the two reconciled once again. Miku performed one last important task by throwing Solomon's Cane into the Treasury of Babylonia when the Symphogear users were too exhausted to move after the final battle, sealing the Cane and the Nephilim away forever.
Attacks and Abilities
Edit
Activation Song
Edit
The lusted way of Sen Shou Jing
Lei Sensou-Jin Lei Zizzl
Abilities
Edit
Miku briefly possessed the Relic Shen Shou Jing, which she was forcibly harmonized with through use of the LiNKER drug. As a Symphogear user she had the ability to fight Noise with the use of the anti-Noise armour, the Symphogear, that clads her in battle. As an "Attuned" she can use the Power of Song (歌の力, Uta no Chikara?) to summon her Armed Gear to fight.
When used as a Symphogear, the Shen Shou Jing forms armor themed after a Chinese dress with hakama pants. It can be thought of as a "relic slayer"-type Symphogear, as the light produced by its attacks will erase any relic that it touches. The Shen Shou Jing is not immune to this effect, so it will destroy itself if struck by its own beams. While superb at destroying other relics, because of the unusual light-based nature of its attacks a simple mirror is enough to completely defeat the Shen Shou Jing despite its overwhelming power.
The Armed Gear of this Symphogear is a large metallic bat resembling the closed form of a folding fan, which like all Armed Gears can transform into alternate forms. The tip of the fan features a small circular mirror. In addition to this, the Shen Shou Jing can attack using the pair of whip-like cables attached to its back. Unlike most Symphogears, the Shen Shou Jing can fly without needing to access its X-Drive, and indeed it is the only Symphogear never to utilize X-Drive or its Superb Song.
Shanguang - Transforming the Armed Gear into a full circle composed of 14 fan segments, the user fires a
Unnamed Mirror Bits - The Shen Shou Jing can produce floating remote weapons that resemble small circular mirrors, each capable of firing beams similar to Shanguang. By using additional mirrors, Maria was able to focus dozens of these beams into a single cohesive blast strong enough to erase both the Shen Shou Jing and Gungnir, as well as open the seal on the Frontier.
Liuxing - The most powerful singular attack of the Shen Shou Jing, wherein the knee plates on its armor fold down and connect to the cables on the armour's back. The plates then project semicircular segments outward, forming a large ring in front of the user which fires a large continuous beam. Such is the power of this attack's ability to destroy relics that it can penetrate both Ichiaval's Reflector Bits and many of Ame no Habakiri's Heaven's Wrath swords.
First seen in
Episode 1
Miku is standing at a bus stop in the ruined city in the rain holding a bouquet of white lilies. A bus pulls up and she gets on board. She gets dropped off in a cemetery and she walks to a grave and drops the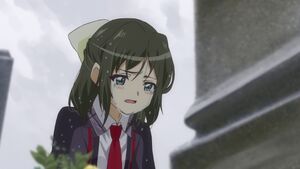 flowers as she drops to her knees crying and says to the grave "I want to see you...I hate...that I can't...Hibiki." As she cries it begins to rain and it flashes back to two years prior. She is seen speaking on the phone with Hibiki as she could not come to the Zwei Wing concert.
Back in the present Miku is seen singing the Lydian Private Music Academy Anthem. She is later seen in her shared room with Hibiki organizing. She smiles affectionately at Hibiki as she talks about Tsubasa. Later that night she is fast asleep in the same bed as Hibiki. The next day she is seen reading the news report about the Noise attack from the night before in the cafeteria. She is later seen working as Hibiki whines about her meeting with Tsubasa and Miku replies that Tsubasa is right in thinking that Hibiki is a weirdo. Miku remembers that Tsubasa's CD goes on sale that day and reminds Hibiki about it, asking what was the point of a CD and makes a point that the CD would probably sell out.
Episode 2 she is seen to have expressed worry as Hibiki comes home extremely late. She is later thanked as Hibiki says that she is the only one who would worry about her. Hibiki then hugs her and tells her that she is the sunshine that warms her. She then wishes her good night as Hibiki has fallen asleep. The next day she is sadden as Hibiki is unable to go with them to Flower.
Miku is seen in
Episode 3
with Hibiki in their room as Mibiki's phones goes off. Miku questions her about it and
offers to cover for her. However she asks that in return Hibiki doesn't get swamped with reports so they could go see a meteor shower one day. Miku helps her undress as Hibiki struggled to get her shirt off. Later in the episode she is sitting outside eating lunch with her friends as Hibiki does her report. Shiori suggests to playing badminton and Kuriyo invites her along, however she declines as she promised to help Hibiki with her report. After Hibiki turns in her report Miku runs off to retrieve their bags.
When Miku returns she finds that Hibiki is gone, going back to their room she is called by Hibiki as something has come up and she might not make it back to see it with her.
In the later part of Episode 4 Miku approches Hibiki on the roof of the school commenting that Hibiki has been on a solitary streak. As Hibiki tries to play it off Miku sits down and takes her hand. As Hibiki asks for space Miku agrees and they continue to hold hands and sit on th bench. Miku stands and tells Hibiki that no matter what she does to remain true to herself. As she doesn't have to change, Miku would support her. She offers her phone to Hibiki so she could see the meteor shower.
Episode 5 Miku wakes in the middle of the night to see that her shared bed with Hibiki is empty with the latter leaving a note informing her that she will be skipping school for training. The next morning Miku covers for Hibiki with the excuse that she is out sick. That night she yells at Hibiki for being gone all day and asks for a real explaination.
Relationships
Edit
Hibiki Tachibana - Miku's best friend. Their relationships is very close and they are childhood friends.
Tsubasa Kazanari - like Hibiki she is a fan of Tsubasa.
Chris Yukine - Miku and Chris are friends, Miku helped Chris in Season 1 episode 8.
Insert Songs Featured in:
Edit
Miku has known Zwei Wing before Hibiki.
She has many similarities with Hibiki: they were late symphogear users, both are kind-hearted, both have a voice actor that is not a singer, they are the only users to be same age
She, Kanade and Maria use "zilzz" in their activation songs which translates as "lust" from old Norse instead of "tron" like others which translates as "awake"
Miku's activation song translates as "The lusted way of Sen Shou Jing", which may refer to Sen Shou Jing's power of using user's desire or goal to power up itself. Interesting that "Lei" can translate also as "leave after death".
Miku's battle song genre is dub-step.